Love for sale
身体を売ったらサヨウナラ
karada wo uttara sayōnara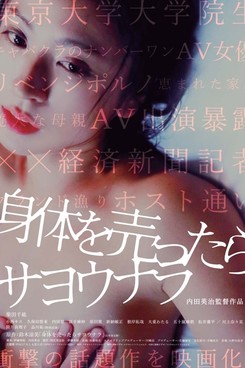 The beautiful and smart Ryoko lives a double life: While being the nice student on the day, she also secretely loves the dissolute nightlife. Despite having a boyfriend she starts an affair with a musician. This half documentary about the true story of the AV-model and writer Ryomi Suzuki offers plenty of original interviews with adult video actors and directors!
---
Ryōmi Suzuki worked as a newspaper reporter for several years after completing her Master's degree at Tokyo University. In her book, which served as the basis for this film, she deals with her own past. The leading actress Chihiro Shibata (among others "Be my Baby" or "Kokokara") is in Hamburg again this year. We are also showing "Love and Other Cults" by director Eiji Uchida.
Love for sale wurde auf dem 19. JFFH 2018 gezeigt.
Impressionen
Bilder & Videos