Old Narcissus
老ナルキソス
rō narukisosu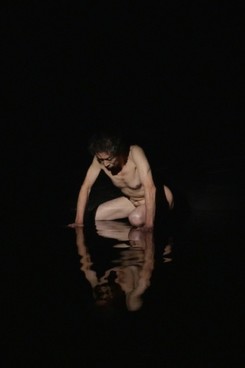 How does someone feel when his whole existence revolves around the adoration of his own beauty while the age let the once youthful body decay? In his youth the successful picture book author Yamazaki loved to show his body in a masochistic way, but now he shudders while seeing himself in a mirror. As he searches for redemption one night he meets the beautiful looking Leo.
---
Tsuyoshi Shoji is a graduate of Musashino Art University. As early as 1995 he won the Tokyo International Lesbians & Gay Film & Video Festival's Special Jury Award for his debut film "Lost in the Garden". Since then, he has worked as a freelance filmmaker, video and effects artist in Tokyo and is also involved in the development of new 3D processes. With "Old Narcissus", he paints in rich decadent coloursthe portrait of an aging man who desires nothing more than to die in the face of the beauty of his youth.
Old Narcissus wurde auf dem 19. JFFH 2018 gezeigt.