Proof of Love
劇場版『リケ恋~理系が恋に落ちたので証明してみた。~』
Gekijōban "Rike Koi ~ Rikei ga Koi ni Ochita no de Shōmei Shite Mita. ~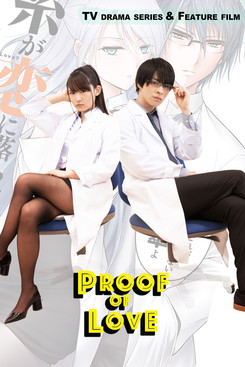 Auch wenn Himuro in Yukimura verknallt ist, für die beiden Wissenschaftsstudenten zählen romantische Gefühle nicht! Wissenschaftliche Herangehensweise ist gefragt, um herauszufinden, ob es sich um wahre Liebe handelt. Auf der Suche nach dem ultimativen romantischen Setting treffen sie auf eine Gruppe von Philosophie-Studenten, die das gleiche Ziel verfolgen. Zwischen Wissenschaftler Yukimura und Philosoph Kannagi entbrennt ein Kampf um Gunst und Herzfrequenz von Himuro, ausgetragen unter anderem in den Disziplinen "Regenschirm halten", "Yukata tragen" oder "Einander in die Augen sehen".
Language details
Subtitle

English

Language

Japanese

Localization

Original with subtitles
More details
Rated PG18
Distributor

All In Entertainment

Actor
---
Die romantische Liebeskomödie "Proof of Love" basiert auf der Manga-Serie "Rikei ga Koi ni Ochita no de, Shoumei Shite Mita" von Alifred Yamamoto, von der seit 2016 fünf Bände erschienen sind. Im September 2018 wurde bereits eine vierteilige Fernsehserie des Manga in Japan gezeigt, eine Anime-Adaption soll in Planung sein. Die Schauspieler der TV-Mini-Serie sind dabei dieselben, wie im Spielfilm.
Showtimes/Watch online
In the Cinema/Streaming