Attack of the Giant Teacher
アタック・オフ・ザ・ジャイアント・ティーチャー
Atakku ofu za jaianto tiichā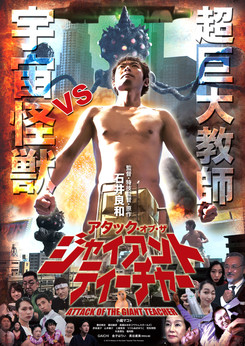 The students of the evening school where Kenzo Miyazawa teaches are quite a mixed bunch - a hostess, a saleswoman, a student who wants to destroy the earth, a reincarnated musician, two aliens ... When the school has to close, everyone wants to contribute to a big musical for the last graduation party. But the rehearsals are difficult and the aliens are pursued by another alien power that wants to destroy the earth. Ultimately, only one gigantic teacher can save the world.
---
Director Ishii Yoshikazu is a returning guest at the 19th JFFH with "Game Master Death Sushi". He was also involved in various major Japanese productions as a special effects artist. In an interview with the online magazine "Asian Movie Pulse" in 2018 he said: "I particularly enjoy the destruction of a city by a monster and monster battles. I do not know why I like it, but these things get me excited. " We can confirm this statement for" Attack of the giant teacher ".
Showtimes/Watch online
In the Cinema/Streaming
Attack of the Giant Teacher wurde auf dem 21. JFFH 2020 gezeigt.