Children of the Sea
海獣の子供
Kaijū no kodomo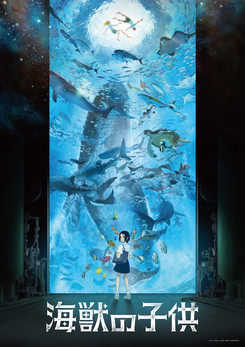 During the summer holidays the young girl Ruka has an encounter with extraordinary boys Umi and Sora, who are both surrounded by mystery. She is fascinated by the elegant movements of her new friends in the water and their intimate closeness to the sea and the marine life. Ruka throws herself into an adventure unlike anything she has ever dreamed of. At the same time, strange and inexplicable marine phenomenons occur all over the world, which are watched closely by governments and scientists. These incidents seem to be somehow connected to Umi and Sora…
---
At last years JFFH Studio 4°C was largely successful with MUTAFUKAZ. Similar to the crazy adaption of the french comic RUN, CHILDREN OF THE SEA is something very special in our program. Walking a thin line between Arthouse and Mainstream, the enchanting story and flamboyant animation style will leave a lasting impression on the audience.
Showtimes/Watch online
In the Cinema/Streaming
Children of the Sea wurde auf dem 21. JFFH 2020 gezeigt.