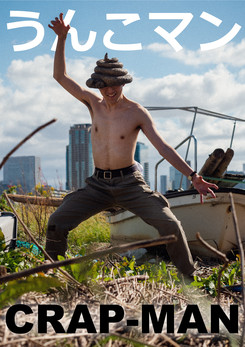 Action, comedy. A low-budget parody of films in where a superhero saves everyone with his powers and makes the cosmic energies shine. The Crap-Man has a thick poop on his head and eats with his butt hole, while the baby Takashi owes his salvation to the hero's diarrhea.
Commentary clip by director and cast:
https://www.youtube.com/watch?v=A30bgI6VRDU
---
Showtimes/Watch online
In the Cinema/Streaming
Crap-Man wurde auf dem 21. JFFH 2020 gezeigt.