Ghost Master
ゴーストマスター
Gōsuto masutā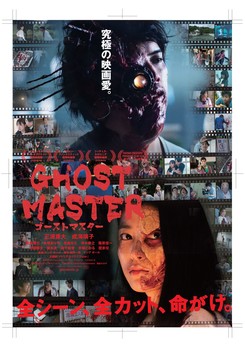 Akiras Kurosawa's filming of a romantically cheesy low-budget strip getting nowhere. In contrast to his namesake, he stumbles through the settings talent-free. His only drive is the Ghost Master, a script he carries with him in the hope that it will be produced as his directorial debut. But his project is in a far distance. His film crew quits and Akira gets into a depressive anger. The evil energies flow into his "Ghost Master" script and unleash Yuya - let's call him the "Headsmasher".
---
"Evil Dead" sends its regards - "Ghost Master" ran successfully at several film festivals and is definitely not a movie for people with weak stomachs although the sometimes borderline gore and splatter elements are garnished with hilarious humor and irony. The script was provided by Ichirō Kusuno ("Tokyo Ghoul"). The bloody victims include Takahiro Miura ("Shin Godzilla") and Riko Narumi ("Yakuza Apocalypse")!
Ghost Master は 21. JFFH 2020 で上映されます.