The Viper's Hex
ヴァイパーズ・ヘックス
vaipāzu hekkusu
Addison Heath, Jasmine Jakupi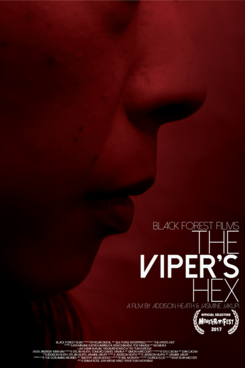 Kiyo works as a hostess in a club that primarily serves the satisfaction of men. No matter what, she shall fulfill their wishes. Club owner Tetsuya makes this clear to her again and again. She falls in love with Anchin, a young man with rich parents, and she seems to be happy for the first time in her life. But he leaves her after she gets pregnant which makes her world fall apart. Driven by a revenge spirit she swears to let everyone pay who made her suffer in the past.
---
Launched as a crowd-funding project, the Australian Indie-Studio Black Forest Films began their so far most ambitious project with their "The Viper's Hex". Inspired by the Yōkai story of Kiyo-hime and a love for Japanese horror, they decided to shoot the complete film in Japan with mostly Japanese actors. The result is an interesting Western perspective on J-horror and Japanese folklore, which is reflected in a modern revenge drama.
The Viper's Hex wurde auf dem 19. JFFH 2018 gezeigt.
Impressionen
Bilder & Videos