Vampire Clay
血を吸う粘土
chi o sū nendo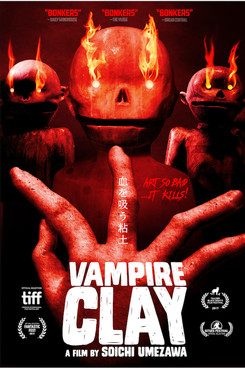 As an art school teacher excavates in the forest a tin box filled with some of the finest clay, little does she know what is getting in her school. When the students work with the clay, which is easy to work with due to its peculiar structure, hell breaks loose: just a couple of water drops are enough to wake up the demon in it. A blood thirsty demon, absorbing victims and transforming them to clay-human hybrids, going in the search for new victims...
---
With "Vampire Clay" director Sōichi Umezawa, whom horror fans may know from the segment "Y is for Youth" and from the horror anthology "The ABCs of Death 2", once again proves that handmade special effects are his speciality. When the bones of the characters gradually turn into flexible clay masses and their faces harden and crumble in the fire, it does look rather impressive. Intensive use of the sound scenery evokes the necessary disgusting atmosphere.
Vampire Clay wurde auf dem 19. JFFH 2018 gezeigt.
Impressionen
Bilder & Videos