A Town and a Tall Chimney
ある町の高い煙突
Aru machi no takai entotsu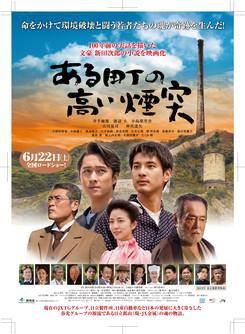 Japan in 1910, industrialization progressing and devastating entire areas in the name of progress. In Irishiken, a farming village in the Ibaraki prefecture, the environment is so polluted that the plants in the fields are dying and the air, which is polluted by toxic smoke is no longer breathable. Saburo, grandson of the village elder can no longer put up with this and forms a village resistance. He finds in Junpei, an idealistic employee of the Hitachi, mine an unexpected ally in the fight for a way to save the village.
Commentary clip by director Mr. Matsumura:
https://www.youtube.com/watch?v=AmzIfgTwAGY
---
With "A Town and a Tall Chimney" director Katsuya Matsumura adapts a novel by Jirō Nitta, which is based on actual historical events. With Dai Watanbe, son of Ken Watanabe, and the legendary veteran actor Takuya Nakadai ("Harakiri", "Ran"), Matsumura has a fantastic cast at his disposal. The plot about the construction of what was then the tallest industrial chimney in Japan describes the conflict between an agrarian society and large-scale industry committed to progress and profit. Matsumura deliberately avoids overly simple ideas of good versus evil.
Showtimes/Watch online
In the Cinema/Streaming
A Town and a Tall Chimney wurde auf dem 21. JFFH 2020 gezeigt.