Beautiful Goodbye
ビューティフル、グッバイ
Byūtifuru gubbai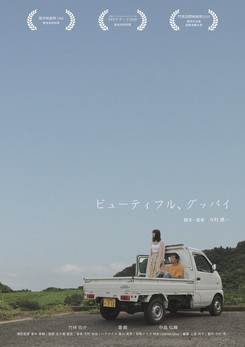 Kogure has stabbed a man and is now on the run. Later that night he hits a young woman with a stolen mini truck, making him responsible for two deaths in one day… if it weren't for the fact that she's already dead. She was brought back from the dead as a zombie by her ex-boyfriend. Now, together they continue their escape through Japan's quiet countryside, with the ex-boyfriend close on their heels. But their time is running out: he can't escape the police or the inevitable deterioration of their bodies forever.
---
Showtimes/Watch online
In the Cinema/Streaming
Beautiful Goodbye wurde auf dem 21. JFFH 2020 gezeigt.