Forgiven Children
許されたこともたち
Yurusareta kodomotachi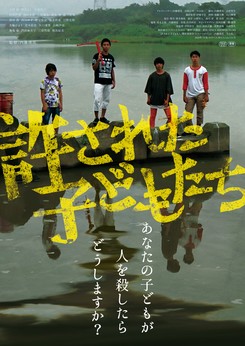 13-year-old Kira suffered from severe bullying attacks for years but now the situation has changed. He has finally managed to crowd a gang of peers around himself. But what to do with your time in the wasteland of a faceless small town? The intimidated Isuki comes in at the right time as a victim for the bored teenagers. Again and again they terrorize the boy until a shot goes off Kira's self-made crossbow. Isuki fatally wounded, bleeds to death in front of his eyes. With the help of his mother, Kira succeeds in releasing himself from the police but the social condemnation makes life hell for him and his family.
---
Director Eisuke Naitō ("Litchi Hikari Club") has created an intense drama about the phenomenon of bullying with "Forgiven Children". He skillfully expands the view from the world of teenagers to the overall social dimension. He painfully highlights the issue of an unleashed media society in which faceless social media channels are calling for manhunt. The ensemble of young actors is particularly impressive, with their lively acting making the film one of the best films of the festival. Must see!
Showtimes/Watch online
In the Cinema/Streaming
Forgiven Children wurde auf dem 21. JFFH 2020 gezeigt.