Kodoku Meatball Machine
蠱毒ミートボールマシン
Kodoku mītobōru mashin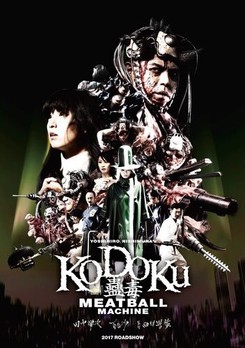 Debt-collector Yūji is simply out of luck. No matter which door he knocks on: he only earns ridicule, mockery and gets beaten by his boss. To make things worse, he also receives a devastating cancer diagnosis. Yūji has only three months to live. Normally an invasion by strangers would not be considered as an improvement but the parasites that turn the infected into Necroborgs do not interact very well with his cancer. Mutated to the extreme from his appearance, he is still completely the same inside. Time to get revenge actually but first he should save the world ...
---
Necroborgs are back, twelve years after the splatter punk classic by Yūdai Yamaguchi. Again the original's special effects director is behind the camera. Yoshihiro Nishimura is not only the director of some of the craziest films ever made ("Tokyo Gore Police", "Vampire Girls vs Frankenstein Girl", "Hell Driver"), he is also one of the most renowned Japanese SFX masters (" Attack on Titan "," Tag "," Shin Godzilla ") and definitely not a representative of the moderate pace. Be warned!
Showtimes/Watch online
In the Cinema/Streaming
Kodoku Meatball Machine wurde auf dem 21. JFFH 2020 gezeigt.