Lunchmate Syndrome
ランチメイト症候群
Ranchimeito shōkōgun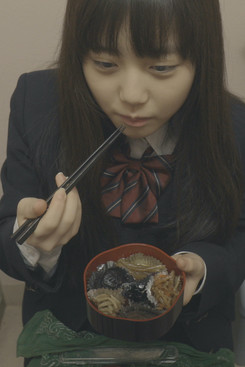 The Bento box belongs to the soul of everyday Japanese school life. Usually prepared early in the morning by one's mom, it embodies warmth, home and belonging. But what if school friends dismiss their own Bento as old-fashioned and uncool? The student Mayumi has to face this challenge in "Lunchmate Syndrome" and with it begins a journey to her own inner culinary compass.
---
The plot of the film refers to a phenomenon that is particularly widespread among Japanese youth: young people for whom the social pressure of eating together with classmates is too great, avoid this by eating in the school toilet. The director Maiko Hamasaki uses this in her film for a affectionate look into the culinary soul of Japan. Supported by the Tokyo Kanda Fantastic Filmfest.
Showtimes/Watch online
In the Cinema/Streaming
Lunchmate Syndrome wurde auf dem 21. JFFH 2020 gezeigt.