Meatball Machine
ミートボールマシン
Mītobōru mashin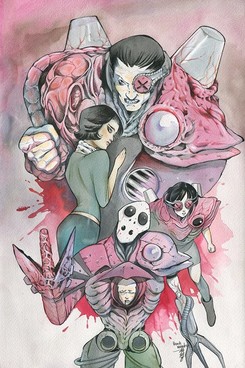 Necroborgs are alien parasites that humans abuse as host bodies, suddenly appear in Japan. Their victims are transformed into monstrous combat robots armed to the teeth. They only have one goal: to track down and destroy other Necroborgs. Unsuspecting, the shy mechanic Yōji accidentally takes such a parasite home with him. When Yōji arrives at home one day accompanied by his beloved Sachiko, she promptly gets attacked by the parasite. Yōji desperately tries to free her from the parasite. But he literally didn't take one thing into account.
---
"Meatball Machine" put its stamp on this genre back in 2005. Groundbreaking, nonconformist and really crazy! This cult film could be a tragic love story, you just have to ignore the handmade body horror - and that is very difficult with the insanely high frequency of tentacle, muscle and tube body mutations and let's be honest: we go for it, don't we?!?
Showtimes/Watch online
In the Cinema/Streaming
Meatball Machine wurde auf dem 21. JFFH 2020 gezeigt.