Out of the Blue
OUT OF THE BLUE - 俺の人生無駄ばかり
OUT OF THE BLUE - ore no jinsei muda bakari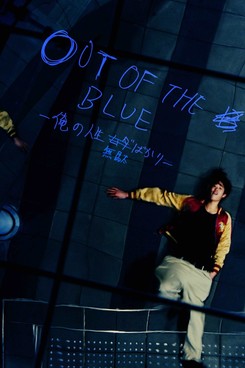 Always dressed in his plump satin jacket, Takuro hangs around with similar plump buddies but he is essentially a good-natured and polite young man who is quickly making friends with strangers. Only when it comes to love he seems to have no luck: He doesn't want anything to do with his admirer Hiroko and is constantly looking for great love. In urban Tokyo day in and day out he meets a wide variety of sometimes bizarre characters. There is no lack of diversion but he just doesn't seem to make any progress in life. Maybe true love is not as far away as Takuro thinks …
---
The dialogues on "Out of the Blue" were improvised completely. The film is a seemingly meaningless chain of only partially connected episodes which often start as unremarkable everyday scenes but very soon lead to absurd and funny situations. In fact the makers of the film claim, that they just want to waste the viewer's time and even a sequel is reportedly already being worked on … The subtitles of "Out of the Blue" were created by the students of the translation workshop (Japanese Studies) at the University of Hamburg in collaboration with Nihon Media e. V.
Showtimes/Watch online
In the Cinema/Streaming
Out of the Blue wurde auf dem 21. JFFH 2020 gezeigt.