Penguin Highway
ペンギン・ハイウェイ
Pengin haiwei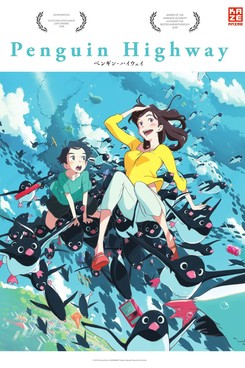 Aoyama is probably the definition of what we call precocious. Self-confidend he is looking into a bright future with a beautiful woman by his side. His own cleverness makes him the easy target of the class bullies with its leader Suzuki though. Fortunately, he soon meets the dental assistant who he only refers to as "Onee-san". Equipped with mysterious powers she rescues him from one or two precarious situations. If "Onee-san"concentrates hard enough and the weather conditions are right she is actually able to create real penguins with her mind.
---
People who are familiar with the work of the currently biggest names in the post-gibli-era anime-business, Mamoru Hosoda und Makoto Shinkai, will problaby also be attracted to the drawing style and the absurd situations of director Hiroyasu Ishida's Penguin Highway. The symbolism and overall information are much more sublte than the movies of the two previously mentioned anime greats.
Showtimes/Watch online
In the Cinema/Streaming
Penguin Highway wurde auf dem 21. JFFH 2020 gezeigt.