All Aboard!
新青春
Shin seishun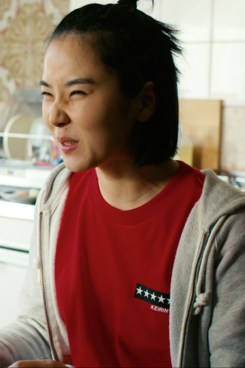 Haruka, a young self-confident train driver, lives in a small Japanese port town. During lively conversations at the kitchen table, it quickly becomes apparent that her male family members are hopelessly overwhelmed by everyday life. There is her weird uncle Kentaro, who is in a relationship with a prostitute, her phlegmatic cousin Manabu, who dreams of a career as a singer, and last but not least her father Goro, who is not up to his role as head of the family. Haruka alone holds the family together with her lovingly strict manner. But when her eyesight suddenly deteriorates, her life is thrown off course.
---
Director Seiichi Hishikawa began his career in the music industry before learning his craft as a filmmaker in New York. He gained extensive experience as a cameraman, set designer, photographer, commercial and theatre director. With All aboard! he now succeeds in creating a humorously staged bittersweet family portrait. In calm images, he tells of the small and large hardships of everyday life. While the lovingly quirky male protagonists threaten to fail at life, the women of the story prove to be the actual strong sex.
Showtimes/Watch online
In the Cinema/Streaming
All Aboard! wurde auf dem 22. JFFH 2021 gezeigt.