A Beast in Love
恋するけだもの
Koi suru kemono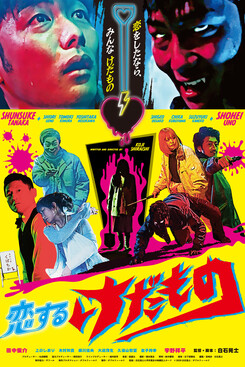 Shôhei Eno wears long hair and women's clothes and first demands the mobile phones, then the love of the men he meets in lonely countryside. But then he gets involved with a gang of criminals in a bar, whose new member Chuya is subjected to humiliation by them. The cross-dresser finds interest in the attractive young man - and has no idea that there is a brutal monster inside him just waiting to be unleashed.
---
Director Kôji Shiraishi's filmography is marked by horror films such as "Sadako vs Kayako" and "Grotesque". No less dark, atmospheric and disturbing is the twisted genre mix "A Beast in Love", which celebrated its world premiere at the MOTELX - Lisbon International Horror Film Festival in Portugal in September 2020.
Showtimes/Watch online
In the Cinema/Streaming
A Beast in Love wurde auf dem 22. JFFH 2021 gezeigt.