I, Dolphin Girl
イルカ少女ダ、私ハ
Iruka shōjo da, watashi wa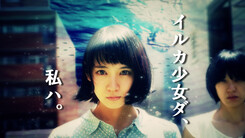 When Isari saves a confused-looking girl named Luka from a traffic accident, she has no idea that she has saved no ordinary girl. Luka is actually a dolphin whose brain has been transplanted into a human body by a mad scientist. Not only that, but she also possesses superhuman ultrasonic powers with which she can make her enemies' heads explode or soothe her friends' hangovers the morning after a pub crawl. Together, Isari and Luka stumble upon the cause of Luka's extraordinary existence in a light-hearted film about friendship and belonging, packed with indie music and quirky characters.
---
"I, Dolphin Girl" (2014) was Time Ryōsuke's second and last appearance as a director after Experiment Failure Family (2012). Instead, he has made a name for himself as a manga author. However, he has not remained completely away from the film world - his manga 70 uizan ("First Child at 70") was adapted as a TV series by NHK in 2020. For Yoshioka Riho, on the other hand, the role of Luka was the first step towards a successful career as an actress and voice actress. She was last heard in the anime Fortune Favors Lady Nikuko (2021) by director Watanabe Ayumu.
Showtimes/Watch online
In the Cinema/Streaming
I, Dolphin Girl wurde auf dem 22. JFFH 2021 gezeigt.