Sacrifice
サクリファイス
Sakurifaisu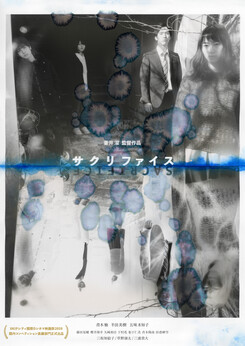 As a member of an end-time cult, little Midori dreams of the great earthquake and tsunami of Fukushima. Seven years later, as a college student, she believes she can finally leave her old life behind. But she is still plagued by oppressive visions. Meanwhile, her classmate Toko accuses classmate Okita of being behind a series of cat murders and the death of a girl. Midori's dreams become increasingly threatening. As fast as she runs, she can't escape her past as a cult member or her doomsday fantasies.
---
Cassandra, the fortune teller from Greek mythology, was haunted by the curse that she could predict the future, but at the same time was helplessly at the mercy of her unalterable stream of malice. In his feature film debut, director Taku Tsuboi succeeds in creating an impressively atmospheric mystery drama about the torments of second sight, the immutability of fate. Cyclically recurring catastrophes, supernatural thriller elements and personal drama blend into a depressingly intense film experience. Tsuboi bravely rides the razor's edge of his ambitions, the abyss of failure always before his eyes.
Showtimes/Watch online
In the Cinema/Streaming
Sacrifice wurde auf dem 22. JFFH 2021 gezeigt.