Thou'lt Look Back No More, Never, Never, Never, Never, Never
Thou'lt look back no more, never, never,never,never,never,never
Zōruto rukku bakku no moa, neba, neba, neba, neba, neba.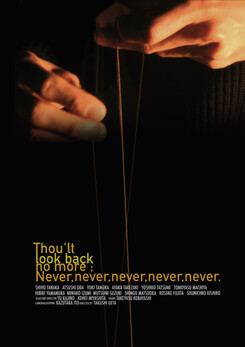 Young Shihio once unsuccessfully auditioned for a film role. She has long since buried her dream of becoming an actress when, seven years later, she surprisingly gets a second chance. The director of yesteryear has not forgotten her and now desperately wants to cast her in his new film. What does he see in the young woman? A talent for acting? A vulnerable soul? Something true? Shihio's everyday life is marked by routine. Lonely, she lives with or rather next to her boyfriend in a small flat. Who is she anyway? What is her true self? Or is she merely a vessel into which the director can pour his idea of her?
---
The film title is a direct quote from Shakespeare's King Lear. Oh, you never return, never, never, never, never! When Takushi Ueta saw Jean-Luc Godard's "LePetit Soldat" in the cinema as a teenager, he was hooked. He set his mind on creating his own films and essentially learned the craft of filmmaking on his own. In the meantime, he shot numerous short films and wrote his own screenplays. In 2020, he was finally able to make his dream come true with his feature film debut.
Showtimes/Watch online
In the Cinema/Streaming
Thou'lt Look Back No More, Never, Never, Never, Never, Never wurde auf dem 22. JFFH 2021 gezeigt.