Parallel
PARALLEL
Parareru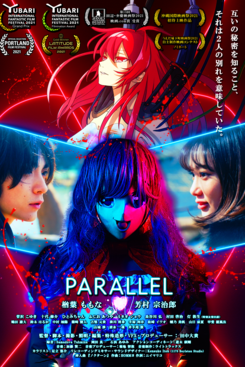 Mai, abused by her parents, struggles to overcome her childhood memories. She works in a pickup-bar where she and best friend Kana, prey on gullible men. Mai meets a cosplay dressing serial-killer who becomes intrigued by her. They begin a relationship. Mai hides her emotional scars, the killer hides his identity. As they grow closer, an invisible shadow hovers over both of them. But inevitably, their hidden natures and urges lead them down the path of annihilation.
Language details
Subtitle

English

Language

Japanese

Localization

Original with subtitles
More details
Rated not yet rated
Distributor

Daiki Tanaka

Actor

Momona Naraha, Sōjiro Yoshimura, Koyuki Sugasawa, Shusuke Jūdai, Hito:michang, Atsuya Fujio, Syo Mineo, Kō Hasegawa, Keiji Murata, Yūdai Tsuruta, Haruka Suzuki, Yūhi Nakamura, Atsuki Tomori
---
Born in Tokyo. Graduated from Nihon University College of Art's film directing course, and is currently working as a freelance film director. His hero film "FILAMENT," which he produced as his graduation project, has been selected and won awards at various film festivals in Japan and abroad, transcending genre boundaries, including the Okinawa International Film Festival and the Kanazawa Film Festival, where it won the Special Jury Prize. His first feature film "PARALLEL" won both the Grand Prix and the Filmmation Award in the feature film category at the Yubari International Fantastic Film Festival 2021. The film won the Eiga.com Award at the Tanabe-Benkei Film Festival and is scheduled for theatrical release in 2022.
Showtimes/Watch online
In the Cinema/Streaming