Reunion
酒場SF映画「REUNION」
Sakaba EsuEfu eiga "Riyunion"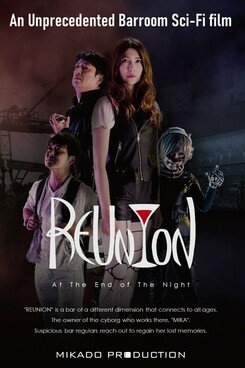 REUNION" is a bar in another dimension that connects to every era. Mika is a female cyborg who works there. Her lower body is an ugly tin-work machine. Mica has lost her memories of the past, but she still works there, always with a smile on her face. Every night, men and women from all walks of life come through the store's door "GATE" and enjoy talking with Mika. One day, M-chin, a man who has a clue to Mika's lost memories, visits the store. Mica is helped by the regulars and sets off on a journey into the "lost past".
---
Born in 1968. When he was in junior high school, his father bought him an 8mm film camera, which led him to become immersed in the world of filmmaking. He made more than 10 short films during his high school and college years. After a 25-year blank, he launched MIKADO PRODUCTION in 2020 and started making new science fiction films, with the film "REUNION" to be released in March 2021. He is also the president of an advertising production company.
Showtimes/Watch online
In the Cinema/Streaming