The Maverick
流れた血は物語る。
Nagareta chi wa monogataru.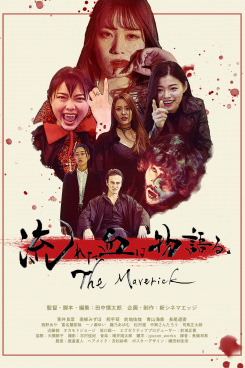 Eri, the female vampire, is integrated into the human society and lives her daily life. Her emotions get fading out while spending the time with human. One day, a series of murder cases occur in a town. It is reported that these cases were caused by a vampire in a occult article because a mark like a bite discovered on the victims' neck in common. It is caused a sensation in the society by Misono Saionzi, the woman calling herself a vampire, because she says that it should be the work of the same tribe with me. Yuri Saeki, the captain of occult research club, and her club members begin independently the investigation into these cases to find out the truth. Coincidentally, they meet Jumpei Sasamoto, the struggling journalist made the occult article, and Momoka Yoshida, the female dispatched worker supporting him. Then, it has been decided that they investigate together ー
---
Tanaka Shintarō made his directorial debut in 2014 with an independent film. It was nominated at domestic film festivals. In 2016, he founded the film production company "LOOK FILM". He produced several films that were screened in theaters in Osaka and Tokyo. The feature film "Gekiyaku", which he directed, wrote the screenplay and edited, was selected for the best feature film of September at the 2021 Paris Film Awards. In addition to production work, he taught at an acting school for several years.
Showtimes/Watch online
In the Cinema/Streaming