Asura Girl - A Blood-C Tale
阿修羅少女(アシュラガール) BLOOD-C 異聞
ashura shōjo (ashura gāru) Blood-C ibun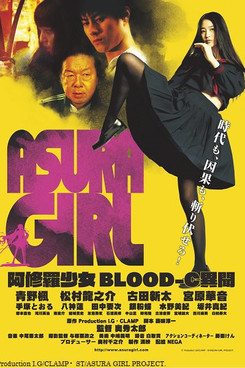 Shortly before the second world war: A police officer of a special unit is found dead next to a mountain village. The members of the special unit suspect that the murderer is one of the villagers and because of that they begin to oppress them. The young boy Ren seems especially suspicious to the policemen because he misses one finger on one of his hands. But he just cares for his sick sister. In this chaos one strange swordfighter who calls herself Saya appears. Ren grants her shelter but soon after that the next murder start to happen...
---
"Asura Girl" is loosely based on the "Blood" franchise ("Blood - The Last Vampire", 2000), specifically on the anime "Blood-C" (2011) by Production I. G and the well-known group of Japanese comic artists "Clamp" (responsible for Card Captor Sakura, Magic Knight Rayearth, Chobits and many more). The story was written by screenwriter Junichi Fujisaku, who also directed the TV series "Blood+" (2005-2006). 
Asura Girl - A Blood-C Tale wurde auf dem 19. JFFH 2018 gezeigt.