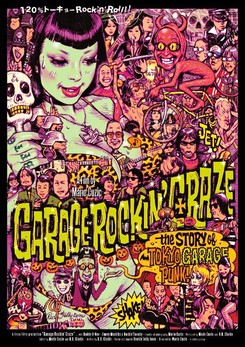 The Japanese music scene? Of course, J-Rock and J-Pop, idols, casted girl groups and now and then singer/songwriter. This movie opens the door to the universe that lies beyond: In the 1980s, the legendary Daddy-O-Nov created the concert series "Back From The Grave". Within a short time it established itself as a melting pot for bands of different styles beyond the mainstream: punk, garage, surf, rockabilly, ... "Back from the Grave" offered them all a home.
---
For many it was the entry point into a world they might have otherwise never have known - and for bands like "Guitar Wolf" or the "5. 6. 7. 8. 's" from "Kill Bill" it was even the start of an international career. For six years Canadian filmmaker Mario Cuzic collected interviews and has now created a pleasing masterpiece with this unique story of Japanese underground culture.
Garage Rockin' Craze wurde auf dem 19. JFFH 2018 gezeigt.
Impressionen
Bilder & Videos