Village on the Village
ヴィレッジ・オン・ザ・ヴィレッジ
Virejji on za Virejji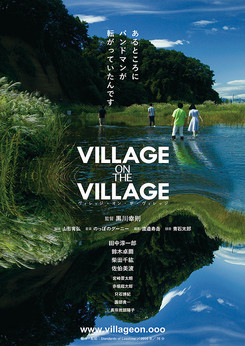 Musiker Nakanishi strandet, von seiner Band verlassen, in einem unbekannten Dorf am Rande eines mysteriösen Flusses. Dort verbringt er unter der Obhut des Barbesitzers Koga und seinen Mitarbeitern einen durchzechten Tag nach dem anderen. Meist beginnt dieser mit einer kalten Pizza vom Vortag und endet stets in Kogas Bar. Doch nicht selten trifft er im Zuge dessen so manch verirrte Gestalt, die ihren Weg aus dem Fluss in das Dorf fand...
Language details
Subtitle

English

Language

Japanese

Localization

Original with subtitles
More details
Rated PG18
Distributor

STANDARDS OF LOSSTIME

Actor
---
Für die Produktion des Films vereinte Regisseur Yukinori Kurokawa, der eigentlich für Pink-Filme bekannt ist, seine Kräfte mit kreativen Köpfen aus der zeitgenössischen Kunst- und Musikszene. Das Buch stammt von Ikuhiro Yamagata, Sänger der Hardcore-Punkband "Core of Bells". Die Hauptrolle spielt Jun'ichirou Tanaka, der auch den Soundtrack beisteuerte, und außerdem Mitglied der Bands "Noppo no Goonie" und "Ju Sei" ist. Yasutaka Watanabe, prominenter Kollaborator der Künstler Kouhei Kobayashi und Tetsuya Umeda, zeichnet sich für die Kamera verantwortlich. Als Gast dürfen wir die Schauspielerin Chihiro Shibata begrüßen.
Showtimes/Watch online
In the Cinema/Streaming