Keita Never Die
ケイタネバーダイ
Keita nebā dai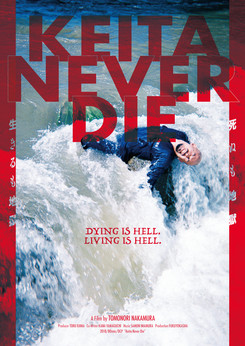 Keita, the little brother of the prostitute Aki, has made himself comfortable in her apartment. But that's not enough: To Aki's displeasure he also meets with his lover Akira whom Keita sends to the streets. When the pregnant daughter of a gang boss innocently accuses him of rape, Keita gets mutilated and murdered and finds himself in the afterlife. Driven by revenge however, he succeeds in returning to the world of the living. But things gets even more curious: From now on he shares his body with his sister and of course she doesn't like this at all...
---
In his independent film project, director Tomonori Nakamura mixes very different genre elements in a refreshingly jaunty way. A portion of Yakuza and revenge thriller, a little ghost story and a pinch of family drama is what makes"Keita Never die" such a wild mixture of genres. The result is an hybrid that is able to surprise the viewer again and again with some really absurd turns. An important pivotal plot point are Keita's genitals, which through its painful loss become a symbol of a disturbed image of masculinity.
Showtimes/Watch online
In the Cinema/Streaming
Keita Never Die wurde auf dem 21. JFFH 2020 gezeigt.