Mimicry Freaks
超擬態人間
Chō-gitai ningen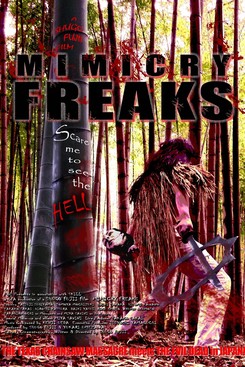 A man wakes up in a bed in the woods. Before he can orient himself chaos breaks over him: snipers attack him, a half-naked warrior wields his ax and painful memories of his son haunt him. Meanwhile a young couple is driven to the wedding ceremony that is to be held right in this forest. But the car breaks down in the middle of nowhere and the fact that the bride's father does not at all agree with an anti-nuclear activist as a son-in-law quickly turns out to be the smallest problem for everyone involved.
---
The above description of the content refers to the first ten minutes of the film and it continues at exactly this pace. Delusions and time levels twist into one another, identities dissolve and one absurd twist chases the next. One or the other Gore insert - and also the otherwise handmade effects - round off the crazy narrative puzzle with the most beautiful tastelessness. An irrepressible, out of control horror sci-fi mindfuck who takes no prisoners and definitely wants to be experienced in the dark.
Showtimes/Watch online
In the Cinema/Streaming
Mimicry Freaks wurde auf dem 21. JFFH 2020 gezeigt.