The Flower of Midsummer Night
夏の夜の花
Natsu no yo no hana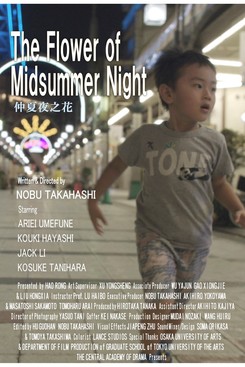 Four-year-old Yang Yang lives with his single mother in Osaka. He has not seen his father, whom his Taiwanese mother met while studying in Japan, for months. He find a picture that shows the three smiling happily in front of a fireworks. The painted picture brings back memories of the happy days as a family. The film sensitively accompanies the emotional world of the individual family members and as well worries and moments of happiness which one can understand across borders.
---
Director Nobuaki Takahashi studies at the "Central Academy of Drama" in Beijing. In addition to the complex relationship between children of divorce and their parents he intends to portray the young Chinese generation who live in Osaka. The subject of the increasingly changing family is not specific to Japan, but is relevant in various countries and shapes society. Supported by the Tokyo Kanda Fantastic Filmfest.
Showtimes/Watch online
In the Cinema/Streaming
The Flower of Midsummer Night wurde auf dem 21. JFFH 2020 gezeigt.