Yūki Kobayashi Yūki, Naruse Kiyoto, Sakamoto Yūgo, Nishimura Yoshihiro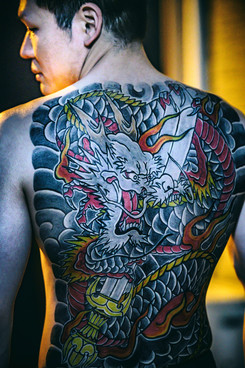 The Yakuza's best days are behind them and they became only a shadow of themselves. The old rituals seem to have fallen out of time and their tattoos make them outcasts. The naive student Ryō stumbles into their ranks by chance and before recognizing, he becomes entangled in sinister machinations. He quickly succumbs to the fascination of omnipotence and hedonistic decadence and sinks deeper and deeper into a parallel world of prostitution, blackmail and violence. However, there is one thing that Ryō did not consider: once Yakuza, always Yakuza!
---
Based on the award-winning novella by Tetsuzō Fukuzawa, directors Yūki Kobayashi, Kiyoto Naruse, Yūgo Sakamoto and Yoshihiro Nishimura ("Tokyo Gore Police", "Kodoku Meatball Machine") created a 10-part hyperactive gangster series for the Japanese streaming portal U-Next. At the JFFH we are showing a feature film which works excellently as an own humorous Yakuza actioner. The title "Unfinished" (Japanese for "Sujibori") is referring to the outline of a tattoo in the process of creation which stands for an unfinished work of art.
Showtimes/Watch online
In the Cinema/Streaming
Unfinished wurde auf dem 21. JFFH 2020 gezeigt.