God, Protect My Railroad. ~ Legend of Miki's Red Dragon ~
神さま、わたしの鉄道をまもって。~三木の紅龍伝説~
Kami-sama, watashi no tetsudō wo mamotte. ~ Miki no kōryū densetsu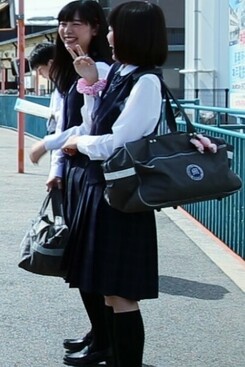 Miki, a peaceful town in Hyōgo Prefecture. Known for its ironware, a ritual has been performed at the local Ryūjin shrine for 90 years to wish for good luck and protection. This was also done for the local railway line.
Mikina, the daughter of the shrine priest, has dreamed of becoming a train driver since childhood. But when the station is completely destroyed in a fire, the future for the little-used railway in the region is on the line.
---
"God Protect My Railroad" is based on a current topic. In 2018, a fire had actually taken place at Miki station near Kobe. Director Konishi, who grew up in the region and has been fascinated by the railway ever since, took this initial situation and the discussion about the value of reconstruction in a sparsely populated region as an opportunity to show the possible consequences.
Showtimes/Watch online
In the Cinema/Streaming
God, Protect My Railroad. ~ Legend of Miki's Red Dragon ~ wurde auf dem 22. JFFH 2021 gezeigt.