Nozomu ~ I Just Wish I Had Been a Woman ~
望(のぞむ) 〜僕は私。私は僕じゃない。〜
Nozomu ~ Boku wa watashi. Watashi wa boku janai. ~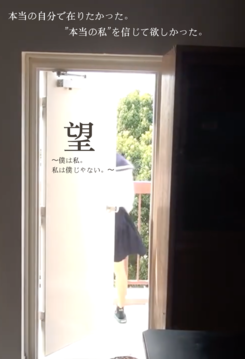 Koga Nozomu has a secret. She is a trans girl. Her friends, however, know nothing about it and think she is a boy. As they spend time together, their conversations are filled with stereotypical ideas of how women and men should each be. Seeking advice, Nozomu struggles to come out to her guidance counsellor, but is met with incomprehension. When it becomes public that Nozomu secretly goes to the girls' toilet and carries a girls' school uniform in her backpack, she experiences increasing bullying and exclusion from her classmates until she can no longer bear it.
---
The film was made as part of a project by the film club of Suiryō High School in Nagoya City and won the jury prize in the under-18 category at the Tokyo Kanda Fantastic Film Festival in 2020. It was directed and starred Nan'ya Shunsuke, himself a second-year high school student. Through the film, the students strongly urge viewers to be more open about LGBTQIA+ issues.
Showtimes/Watch online
In the Cinema/Streaming
Nozomu ~ I Just Wish I Had Been a Woman ~ wurde auf dem 22. JFFH 2021 gezeigt.