Paradise Next
パラダイス・ネクスト
Paradaisu nekusuto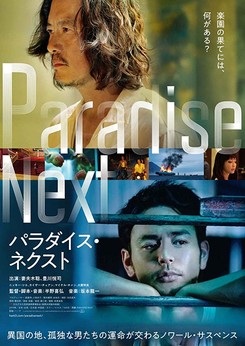 After leaving Japan in a rush tight-lipped Shima is hiding in Taiwan. But once stranger Makino tracks him down and confronts him with his grim past as a Yakuza killer, things start to slide. After refusing the order to kill Makino, both of them leave on a road trip across the Taiwanese province. The encounter with the young waitress Xiao En brings back oppressed memories and Shima discovers the dark secret that connects him to Makino. Together they embark on a journey that forces them to face with their own demons. Three lost souls in search of redemption.
---
Director and music composer Yoshihiro Hanno ("Flowers of Shanghai", "A Woman Wavering in the Rain") cleverly merges in his latest movie classic elements of road movies and gangster melodrams to a thoughtful masterpiece. Besides the impressive camera work, it is the atmospheric dense soundtrack what inspires contributed by music legend Ryūichi Sakamoto ("Furyo - Merry Christmas", "Mr. Lawrence", "The Last Emperor"). The bilingual shooting of this Japanese-Taiwanese co-production took place in Taiwan in 2018.
Paradise Next は 21. JFFH 2020 で上映されます.