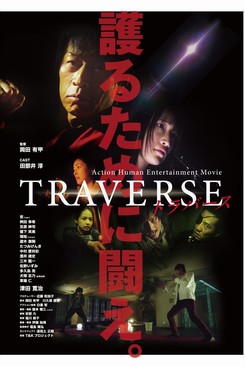 Karate master Jun and his wife Aki live in Toyohashi City with their adopted daughter Rina. The family happiness seems perfect until Aki disappears while visiting a fireworks display together. After the police discover her suicide, a world collapses for Jun. Filled with guilt, he closes his Dojo and starts drinking. The relationship with his daughter seems broken but when Rina is threatened by a brutal Yakuza gang a few years later, Jun is present. Now he has to apply all of his martial arts skills to fight his way to her.
---
With "Traverse" director Yūki Okada succeeds in creating a rare example of a Japanese martial arts filmstrip that does not convince with SFX but with real martial arts. This is guaranteed by Karate Grand Master Jun Tamegai who impressively demonstrates his skills in "Traverse". Yūki Okada born in Osaka in 1954 has worked in various roles in movies for many years, producing TV shows and documentaries as well. His secret love however, was martial arts cinema which is the reason why he participated in numerous action film projects including as assistant director to Jackie Chan. Supported by the Tokyo Kanda Fantastic Filmfest.
Traverse は 21. JFFH 2020 で上映されます.