Cosmetic DNA
Cosmetic DNA
Kosumetikku dīenuē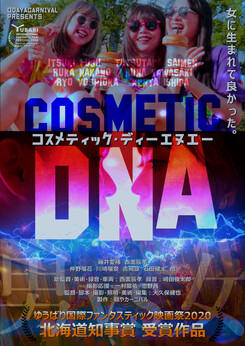 Ayaka, a young student who loves make-up and is very concerned about her appearance, is sexually abused by the self-proclaimed director Keisuke, whom she meets in a clubhouse. She falls into a depression over this experience, which she can only overcome when she befriends the doctoral student Satomi and the clothing saleswoman Yumi. However, when she learns that Yumi is Keisuke's next target, she kills him. While processing the corpse, she discovers that human blood makes an excellent cosmetic product. The beginning of a deadly business model...
---
Born in 1995 in Ōsaka, Ken'ya Okubo has so far mainly been active in the production of indie film projects and music videos, which is also clearly noticeable in the styled style of "Cosmetic DNA" with its various effects and camera angles. But it is precisely these, together with the crude characters, that give the necessary humorous touch to a film that comes up with equally shocking images. In 2020, "Cosmetic DNA" won the Hokkaidō Governor's Award at the Yubari International Fantastic Film Festival.
Cosmetic DNA は 22. JFFH 2021 で上映されます.