Antiporno
アンチポルノ
anchiporuno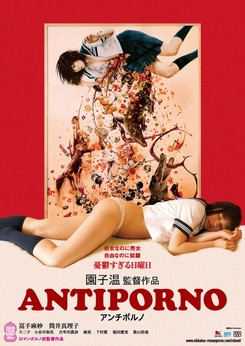 Not only Sion Sono does make a great number of reliably enchanting films, but he's also able to surprise a lot, again and again. So did he when the traditional Nikkatsu studio approached him to revive the golden days of intellectual pornographic movies: Noriko is the submissive assistant to the success-spoiled, hot-tempered star model Kyôko, who treats Noriko with caustic condescension. Between excesses of all kinds, sexual humiliation and visions of Kyôko's faded sister, an exhaustingly decadent day goes by; until the director shouts "Cut!" and the seemingly clear conditions collapse irreparably.
---
Antiporno excited a worldwide sensation - for the feminist manifesto in chamber play format is by no means a simple finger exercise of the enfant terrible, but an exceptionally cleverly conceived, highly energetic and multi-layered act of violence, from a film which, without being self-serving, doesn't shy away from maneuvering the viewer into a dense network of meta-levels and leaving him alone with raw, artificial impressions, wild twists and the rebellious images.
Antiporno wurde auf dem 19. JFFH 2018 gezeigt.
Impressionen
Bilder & Videos