Brave Storm
ブレイブストーム
Bureibusutoumu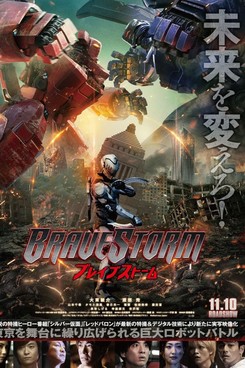 The professional boxer Ken is a nervous wreck. At first his enemy turns out to be incredibly strong and also murderous. But that isn't everything, he then is saved by three odd strangers who are time-travellers from the year 2050, where big fight robots turn the earth's atmosphere with the help of some strange gas breatheable for the alien invaders but toxic for humans! And as that wouldn't be enough even Ken's long lost genius-like brother Kenichiro appears again! Ken once asked his brother to build him a huge robot, and well, it is now constructed and ready to work!
---
"Silver Kamen" and "Super Robot Red Baron" - those were the names of two Tokusatsu series in the early seventies which inspired "Brave Storm". In his directing debut, Junya Okabe lovingly staged the material, modernizing it where necessary, and spicing it up with impressive visual effects. The result is an action-packed spectacle which shows respect to role models and lets you have fun as if you were a child again, all the way to the epic showdown.
Brave Storm wurde auf dem 19. JFFH 2018 gezeigt.
Impressionen
Bilder & Videos