Chronicle of the After-School Wars
放課後戦記
hōkago senki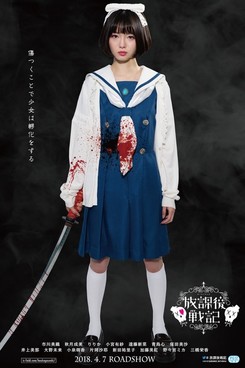 Sena is bullied by her classmates and left with a bleeding nose. Yudachi takes care of her and lends her a handkerchief, which Sena wants to bring back later on. While waiting, she falls asleep and wakes up in the middle of the night in the school, already long closed. Then Sena finds a student dying in agony and realizes that she's gotten into something terrible. At dawn, the ambient colors look strange and there is nobody but a couple of students. And these ones seem to have only one thing in mind: to kill each other...
---
When children and young people raise their hands against each other, we react with particular dejection. The most famous Japanese example of this taboo break is certainly "Battle Royale" (2000), of which one is reminded by several scenes. The anime "Angel Beats!" (2010) may also have provided some inspiration for the film. Quickly the apparent innocence of children gives way to a naked will to survive and sometimes a sadistic pleasure in violence. Fortunately, the movie doesn't degenerate into a senseless splatter orgy at this point, but is unexpectedly quiet in some scenes.
Chronicle of the After-School Wars wurde auf dem 19. JFFH 2018 gezeigt.
Impressionen
Bilder & Videos