Game Master DEATH SUSHI
ゲームマスター
gēmu masutā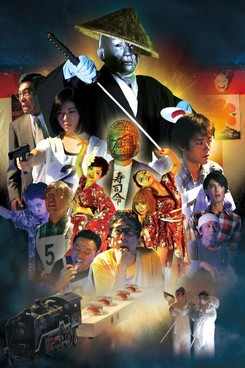 Nine men and women awake totally disoriented in an locked room without knowing how they got there. But that is just the beginning because suddenly there stands someone in a cheap samurai costume and introduces himself as "The Game Master" just to tell them that they have been chosen as candidates for the "Death-Sushi-Games"! As they see how the severed head from one of them flies through the room, they slowly realise that this isn't some kind of dumb joke... Already the first round, the "Death-Sushi-Eating-Competition", demands the next victim. A bloody battle beginns!
---
Yoshikazu Ishii was fascinated by the diversity of cinema from an early age. However, he has a special love for the Japanese Kaiju Eiga, and so he has shot several making-ofs of Godzilla film adaptations, most recently "Godzilla Final Wars". As a special effects artist and assistant director, he has participated in various major productions, including "Sinking of Japan", "L: Change the World", "Gantz" and "Nodame Cantabile". Most recently he was able to celebrate several successes as a director with episodes of the TV series "Ultraman Ginga". Ishii's newest film "Game Master DEATH SUSHI" celebrates its international premiere in Hamburg.
Game Master DEATH SUSHI wurde auf dem 19. JFFH 2018 gezeigt.
Impressionen
Bilder & Videos