I will never forgive
私は絶対許さない
watashi wa zettai yurusanai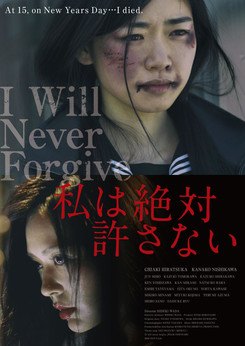 Furukawa... Kimura... Numashita... Masaaki... Saita... Yoko these five names will keep always in her mind. Again and again does she recall the night as she was raped by these five men. Neglected by her family, bullied by her classmates and driven by her urge for revenge the 15 years old school girl flees into the arms of an old man who rewards her for sexual favors and also becomes some kind of a new father figure for her. It shouldn't be the last contradictory situation in her life...
---
With "I will never forgive", director Hideki Wada has created a special film. What stands out here is his unusual perspective, because the very personal story - based on a true event - it's almost exclusively presented from the perspective of the main character. This makes the story particularly impressive - the physical pain of the protagonist as well as the feelings of anger, grief and despair are transmitted directly to the viewer. A brilliantly staged psycho-drama that will haunt you even when it is over.
I will never forgive wurde auf dem 19. JFFH 2018 gezeigt.