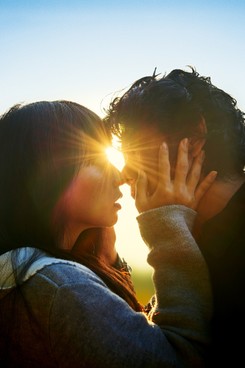 Finding the right words to describe a movie can be very difficult sometimes. Hardly anyone knows this better than Misako, who creates audio descriptions for the visually impaired. While developing the description for her current movie she's not only struggling with its poetic and interpretive nature but also with the almost blind photographer Nakamori, who harshly criticizes her work in test screenings. Misako is initially offended, but when she sees Nakamori's pictures, she feels a deep connection with the angry artist ...
---
Naomi Kawase ("Cherry Blossoms and Red Beans") has long since made her international breakthrough: With "Radiance", she competed for the Golden Palm of Cannes for the fifth time in 2017. Her film is about the visible and describing the invisible isn't only successful because of her carefully accentuated presentation, but also because of the two fantastic leading actors Ayame Misaki and Masatoshi Nagase (Jim Jarmusch's "Paterson"). Thanks to their believable play, Radiance has become a touching film, a painful one - and a very beautiful one.
Radiance wurde auf dem 19. JFFH 2018 gezeigt.
Impressionen
Bilder & Videos