Red Capsule
レッドカプセル
reddo kapuseru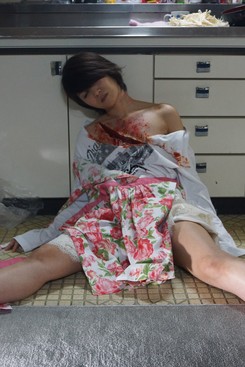 Kinjo goes through an intense life crisis. It's questionable if the drug "Red Capsule" circulating on the black market, which conjures up the truest moments of life in ecstatic intoxication, will bring true salvation, because closely connected to the red pill is death. Before Kinjo can find salvation, or at least answers, he faces a walk through the darkness.
---
Osaka Violence, Snake of Violence, Control of Violence - so far, these are the most famous films by Takahiro Ishihara aka Mr. Violence. Unfortunately, the filmmaker still operates under the radar of the cinephiles, even though his films are all works of art, full of kinetic energy, rigorously captivating with their certainty of style, and at the same time humorous; but most of all, they are very, very independent. Hopefully Red Capsule will help make the talented graduate of the Osaka School for Visual Arts as well known as he deserves to be.
Red Capsule wurde auf dem 19. JFFH 2018 gezeigt.
Impressionen
Bilder & Videos