Vegetarian of the Dad
ベジタリアン・オブ・ザ・ダッド
bejitarian ofu za deddo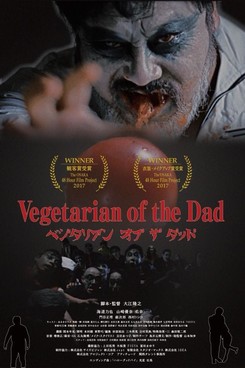 I smell tomato pulp! It isn't easy to be the father of a girl who is currently in love, especially when it is a zombie family! The head of the family Ken struggles really hard with his strict vegetarian diet to fight his hunger for human flesh. After his nutritional therapist is kidnapped by a bunch of wild zombies, he decides to save him. Ken becomes a super hero, who saves humankind from the dead!
---
The Director Takashi Oe, from Hamburg's twinned city of Osaka, created his lovely short film "Vegetarian of the Dad" in only two days as part of the Osaka 48 Hour Film Project 2017. The result was a funny zombie family film which proves that even the worst meat consumer can be converted to a vegan lifestyle, if only out of love for his daughter. A winking genre contribution that arouses the unquenchable greed for fresh tomatoes in the audience!
Vegetarian of the Dad wurde auf dem 19. JFFH 2018 gezeigt.
Impressionen
Bilder & Videos