Was ich sah, weil ich nicht sehen kann
見えないから見えたもの
mienai kara mieta mono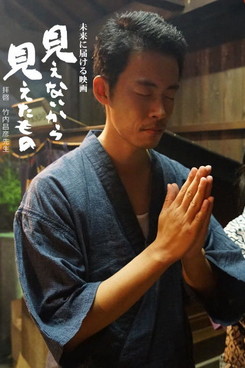 The film chronicles the life of Masahiko Takeuchi, who lost his eyesight at a young age after pneumonia and, prevailing against odds, never lost the courage to live. After attending the school for the blind and participating at the paralympic games he enrolled to college, became a teacher, married and started a family. However, he was still not spared from tragedies. He became famous to a larger audience in Japan through his autobiography and its film version, which is portrayed in "What I Saw Because I Cannot See". He continues inspiring people through his appearances throughout the country.
---
This moving story, which was filmed under the direction of Mamoru Yamamoto and - with the exception of the leading actor Takeshi Masago - mostly shows layman actors, is now showing exclusively in the European premiere at the Japan-Filmfest Hamburg! This film was mainly financed by donations and is recommended by the Japanese Ministry of Culture as teaching material in social studies classes. The subtitles were translated into German by students of Japanese Studies at the University of Hamburg in cooperation with the JFFH.
Was ich sah, weil ich nicht sehen kann wurde auf dem 19. JFFH 2018 gezeigt.