Yamato (California)
大和(カリフォルニア)
Yamato (Kariforunia)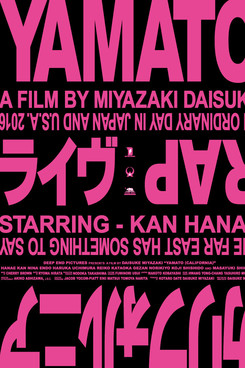 California - An ocean far away from mostly anywhere in Japan, young Sakura is only a stone throw away from her dream destination that is located, in the form of an American military base, just outside the doors of her hometown of Yamato. Sakura, who bears neither the felt provincial nor the very real domestic narrowness, takes refuge in rap music, even though she has no talent but stage fright. Only the disarmingly friendly half-American Rei succeeds in overcoming Sakura's defense. But for Sakura, this means that her self-image bounces on reality ...
---
"Yamato (California)" is the story of a young woman who is seeking her place in the world. Director Daisuke Miyazaki avoids clichés, but shows remarkable craftsmanship with intelligent sound design: The soundscape of American jets is constantly in the background, as is Sakura's desire to break out. Hanae Kan ("Nobody Knows") brings her complex character to life with her nuanced acting and is thus instrumental in making "Yamato (California)" an all-round successful film.
Yamato (California) wurde auf dem 19. JFFH 2018 gezeigt.
Impressionen
Bilder & Videos